These days there's just too much for IT to operate, and getting rid of the chore of managing and maintaining some of it can help. That's the reason for the strong growth in cloud-based services. Offloading your work to the cloud can also put it in the hands of specialists; presumably to have a better job done of it.
But some things will never work well in the cloud. There's a lack of good remote solutions for some needs. Putting always-on services at the other end of an increasingly fragile Internet connection just isn't a good idea. There are also security issues with putting your critical information outside your network. Who owns that information? Is it really protected? Where does it go?
So we have come up with a way to have the best of both worlds—by moving a small piece of the cloud to your local network. You get the same hands-off management by specialists, and also the security of having your critical services and data kept locally, and not dependent on the uninterrupted function of your Internet connection.
Enter the MXN GOLD appliance. It's a pre-configured, redundant appliance designed for smaller organizations that is installed on the local network with one or more of three general utilities: a complete, end-to-end security system, a complete Voice over IP system with Unified Messaging extensions, and a manager of integrated wired and wireless networks. The appliance comes with as many of these features of each utility initially needed already pre-loaded, and some or all of the rest can be later remotely loaded and activated. An organization picks only those features that it needs, adds only those features that need to be added later, and then gets charged only for the utilities that are actually used.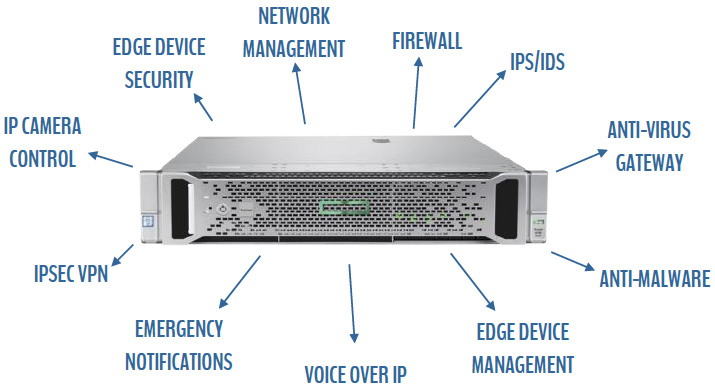 SECURITY
Firewall
IPS and IDS
AV Gateway
IPSEC VPN termination for offsite clients and networks
Malware, hacking and BOT entrapment, isolation and identification
Edge device protection—client virus and worm protection, web filtering, two-factor authentication for critical application access protection
IP camera control, management and recording
VOICE OVER IP (VOIP)
VoIP call control
Voicemail
Unified messaging
Teleworker for work-at-home or disaster recovery
Conferencing and collaboration
Full-spectrum (text, email, audio, screen-pop) emergency notification
NETWORK MANAGEMENT
Switch management
Wireless access point management
Network mapping and monitoring
Wireless security
The GOLD appliance gives you a full suite of leading products that provide security from the core of the network, through the middle of the network (to defeat infection by thumb drives and attachment-clicking), to the edge of the network where the clients live. You also can get a security camera system, to add physical security to round out the security profile. You get competent management by trained security people. And you get full-spectrum protection of your networks, which you don't have now. This is the only full-spectrum, multi-vendor protection system on the market.
The GOLD appliance can also give you a local, full-function VoIP system with voicemail and unified messaging at the flip of a switch. This system supports both any SIP phones that you already have or may acquire in the future, and free SIP applications that can turn your cell phones into local wireless phones. We also have a full suite of IP phones for your use. You can also implement a complete audio, video, screen-pop, email, and text mass notification system. The GOLD appliance can do network switch and wireless access point management, monitoring and excellent, multi-level security for moderate numbers of network devices.
ANCILLARY CONSOLES, CLIENTS, AND AGENTS
The appliance has local agents that provide seven-by-twenty-four monitoring of the appliances and the applications, and provide full-spectrum remote access to the appliance and all those applications. The system allows our experts to be onsite immediately and work on your system for you, and to conduct status briefings and technology training for you.
IMPLEMENTATION
Well, turning on the initial services is not actually as easy as just flipping a switch. You do have to participate in the installation of the appliances and the implementation of the services. If you engage the service you get the appliances, have to install them in your data center rack, and connect them to 110v power. There's also a small amount of configuration needed to make sure that these new applications can find the networks and devices when they're turned on. Read a short manual, follow easy directions, and we take it from there with remote configuration and management to be followed up with a short onsite visit to inspect, and adjust as needed.
Don't care to read short instruction manuals? You can also opt for the slightly more expensive onsite installation, where we put an engineer onsite to do all the work: connecting the appliances to your network, doing the basic configuration needed to integrate the applications with your network, and training you on how to interact with your new applications.
Here's a quick-and-easy way bring big-organization security, VoIP and edge device control and management to even the smallest of IT shops. And all this done with a minimum of fuss, and with the benefits of local operation and remote management.